Thursday, October 29
I got a call from Qnet being told that they can't fix my unit yet because they still haven't finished servicing all the 17 computers they previously told me about. Bukas na lang daw.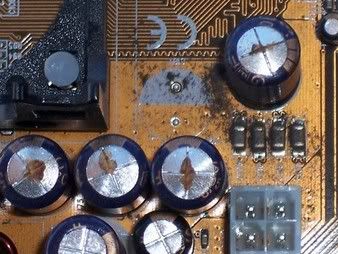 oh, THOSE are capacitors!
I went to a net cafe to check mail, but PLDT DSL conked out. Again.
As I wait outside the cafe for the DSL to come back, I got a call from Sony saying they want to interview me before the day is over. I went home, got dressed, and went on a 3-hour ride to Makati.
As I went down the steps of MRT Ayala Station, I notice people moving aside from something along the steps. As I got closer I saw it was a black kitten. I took a photo with my Pussycam(named while talking with Johnny).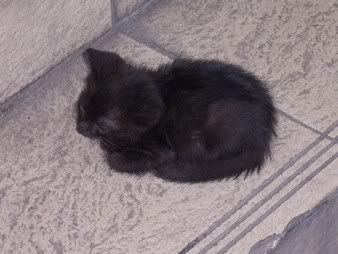 black little pussy
From the Enterprise's top floor, I took a picture of the Makati skyline. Soon after I got interviewed. They told me they'll call me the next day if I am selected among the four applicants.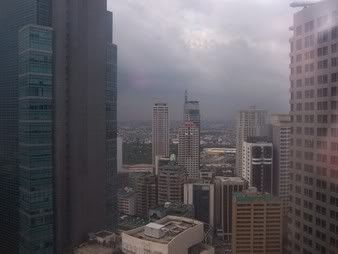 sigh, thank goodness I have other gigs
I found a phone and called Ranulf and talked about new commissioned artworks. After that I tried getting home but the traffic is so bad I couldn't find a jeep or bus I could ride in for almost an hour.
Friday, October 29
Got back home to San Pablo. Took some cd drivers and brought it to Qnet. Went to the Oktober Food/Art/? Festival in Sampaloc Lake where I found Gerry and the other Komikeros along with Ilyn and the UAP trainees :)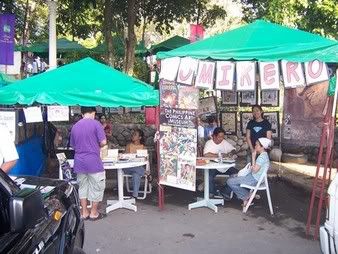 Komikero Booth, Day 1
We get a few...
amusing
people who come to us like that guy who stood watching Jerald draw and asked "What are you doing? Are you an arist?" then turned to me and asked "What's your height?"
Psychocow came to San Pablo long after the Komikeros had packed up (because we have no lights, which Gerry decided to bring the next day). I must be pretty exhausted by the time we met up because I felt so weak. He treated me to a roast beef pizza dinner at pizza hut. And a huge pitcher of water :)
We went to Qnet to take my CPU home, but they forgot to install Norton Antivirus and Photoshop. Again. AFTER I gave them a step-by-step list to remind them precisely that. I decided to just pick it up tomorrow and for the moment take him along for a walk around the festival.
We took pictures of the lake (or tried to) with the almost-full moon and the lights reflecting on the lake surface. Then met up with Wanwan and her friend who visited.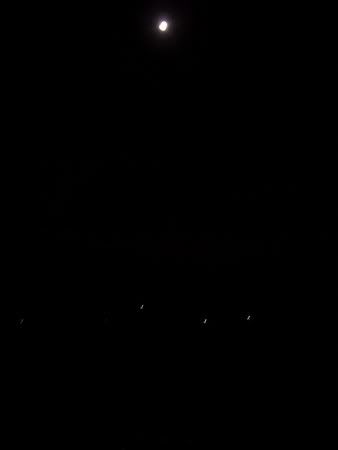 my first attempt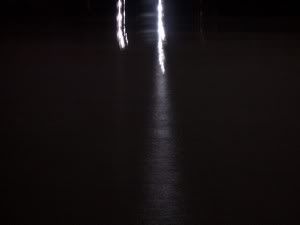 psychocow teaches me about slowing down shutter speed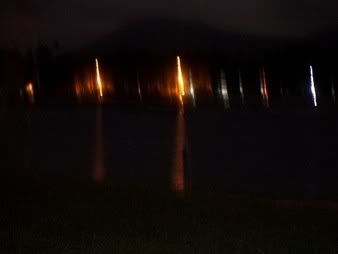 psychocow: "We could sure use a tripod..."
Saturday, October 30
I went to Qnet where I saw the 2 programs finally installed but not updated. They said I could update it myself. I paid for the balance and carried it home in a tricycle.
It took me forever to get online (probably because it's Saturday and a lot of people are online) and when I tried to update it it created an error with my Norton I got a message window saying I have to reinstall it. I called Qnet only to be told they're closing already and won't open until Tuesday due to the holidays.
Frustrated, I went to the Komikero booth to vent off steam. I posted a sign saying i'd make caricatures for P50. 2 women asked me to do theirs. They paid me after I did. I felt better :) Another guy asked me to do his too. I did, but he never came back. I should've asked for a downpayment or something. Anyway, I just used it as a sample to be posted along with my sign. I added that I could make skin art for twenty bucks. Nobody was interested tho except for Sir Mandy, who promised to come by the day after.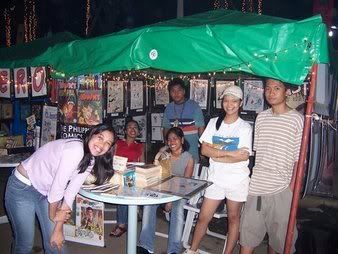 Komikero Booth, Day 2
Sunday, October 31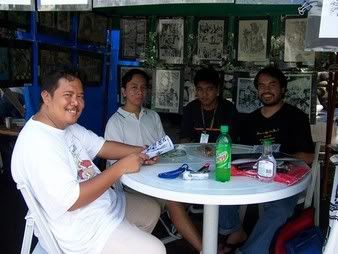 Gerry, Jonas, Raipo, Johnny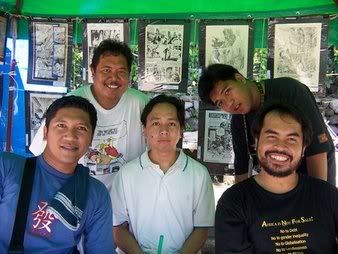 with Riq
Happy Halloween guys! My sis Vivi went to the booth pretty early to set up her not-so-online tiangge. I was too sleepy so I'd just catch up with her as soon as I wake up (heeheehee!). I got there almost 2 hours later and helped finish setting up the booth. I'm so happy to be there with Vivi along with my friends like Gerry and Ilyn and everyone else there :)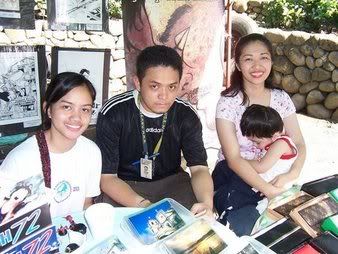 Myles, Jerald, Vivi and sleeping Mikko
At the Park: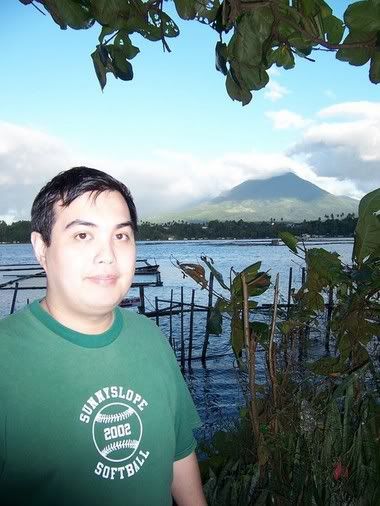 my Kuya Allan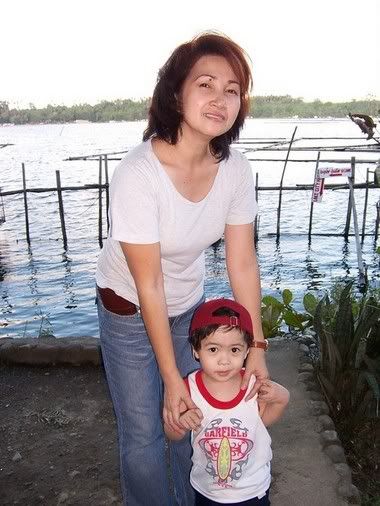 my Mamy with Mikko
People had Jerald do caricatures. I haven't started any face painting until Sir Mandy brought his kids. He still jokes about me doing skin art on his butt. A crowd started to gather when they saw me paint a rosebud on his daughter's face and a blue wolf on his son's arm.
They were still iffy about it tho, thinking it may be only just for kids. So I thought of giving the guys in our booth some free skin art for advertising. The others still paid tho, which I really appreciated. They told me I'm charging pretty cheap as it is, because it usually costs a hundred bucks in Manila instead of twenty.
Guys started getting interested in getting skin art when they saw Johnny's tribal face 'tattoo', and girls wanted to have skin art themselves after they saw the butterfly I painted on Wanwan. Finally I asked Wanwan to help paint my face too, to mimic (David Mack's)Kabuki Mask.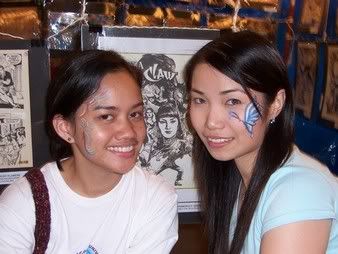 Myles and Wanwan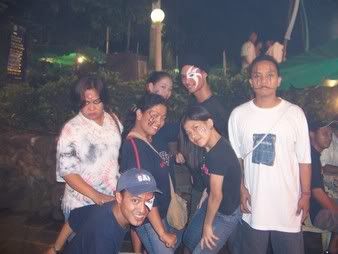 varies from spiderman to vultra(?)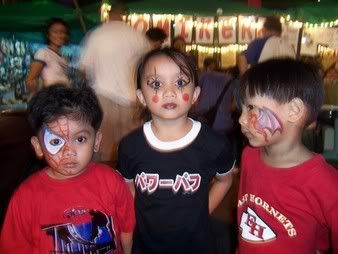 spiderman, butoh and a red dragon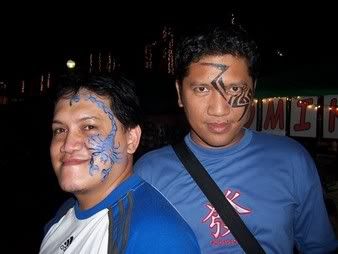 with Riq's friend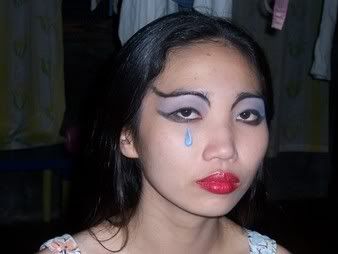 Kabuki, painted mostly by Wanwan
It was a lotta fun, I earned more than P300 bucks just face painting. I have to raise the price next time to P50 tho because I was almost fatigued when I finally got a break that's enough to only sip a Pearl Cooler which was already half-melted.
I'm really happy I got to spend such a fun day with both my friends and my family :)