It is times like these that make me believe God and my angels take care of me :)
I'm supposed to get my first paycheck last week, but let's just say I didn't. I guess accounts was too busy or something. I'll check on it when I get to work.
Anyway, I'm glad for my freelance gigs because I'm surviving on them right now.
Last last Saturday I earned for a 2-hour face painting gig in a kiddie birthday party in Laguna. I had fun with the kids as well as the 'non-kids', even if it seems like they're just being cute because I was with my gorgeous sister(if you wanna get to know her be VERY nice to me and maybe I'll give you her Friendster URL).
Hmmmm, I gotta make a website to upload the pics of our works...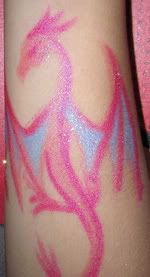 Last Tuesday I got paid more for finishing a comic book cover. This is getting to be a fun project because of the amount of artistic freedom I have. I get to script, pencil, ink, color, letter and layout the entire comic book. I mean, I'm doing EVERYTHING in this project! Which means maximum control. And at the same time the client is very fun to bounce ideas off with :) I just finished another page today. I'm downloading images to use for the third page later.
And yesterday I got paid more for the 3 comic strips I made for Hong Kong. Sure it's mostly educational comic strips for domestic helpers in Hong Kong but even if the premise is not that glamorous I make it a point that I take pride in each and every work I take on. That I followed my standards in doing the job right.
And I'm getting a gift certificate from Seeker for the Hot Copy comic strips! I have no idea what to buy in Neutral Grounds with it tho. Jonas said he'll buy an Aragorn figurine.
HE may find the doll sexy enough for him, but I'm not that satisfied with the Legolas figurine myself. He's not... cute enough :9 And even if he is, what the heck am I gonna do with it??
Anyway, if you haven't bought Seeker Magazine, better by one now ;) Issue 2 of Hot Copy has already come out at Seeker #3. Available in Neutral Grounds anywhere!