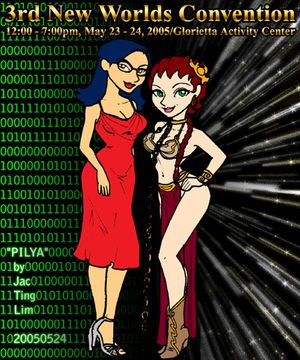 CONGRATS TO
ARASHI-KISHU
FOR WINNING FIRST PLACE
IN THIS YEAR'S
STAR WARS COSPLAY CONTEST!!!
WHEEE!
Please excuse the PILYA creator from making a comic strip (again) this week because she's busy geeking out at the country's biggest sci-fi convention. Will post a decent strip... no wait, maybe not so decent strip next week, for sure :)
As for the Names Contest, submission of entries are hereby ended today!
here are the entries: (Pilya first, then Taray)
Ivanna Mann
Mona Lotts
Soraya Bumatay
Mian Uy
Chiara
Leanne
Diana Kamo
Sara P. Yan
Summer
Faye
Ivy
Cinky/Lee-lee
Melai
Ginnie
Jac(?)
Ting(?)
And today STARTS the VOTING!!! :D just click on the comments and choose among them a name for Pilya and a name for Taray. Have fun!
I'll try to write about POGS, co-workers on kiddie rides, UGG and the convention maybe tomorrow ;)