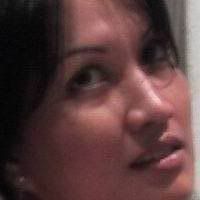 And the next feature for
Pinays in Comics
is
Nikki Alfar
. Here is her bio:
Nikki Alfar learned to write at the age of two, and never quite figured out how to stop. In the three decades since, she has been a flight attendant, a bank manager, a newscaster, and finally a writer/editor—doing work for magazines, television, comic books, various marketing and PR campaigns, and just about anyone who will actually pay her to do what she loves doing anyway. Along the way, she has managed to pick up a couple of Anvil Awards, a National Book Award, and a Palanca award for her copy- and creative writing. She is married to multi-awarded playwright/fictionist Dean Francis Alfar; their three-year-old daughter Sage is a budding writer herself, having recently completed her first flash fiction, The Big Bad Cat.
Nikki's work in comics includes: Siglo: Freedom, Isaw Atbp., The Lost, Hainaku!, K.I.A., ab ovo, TxtMen, and the upcoming Project:Hero and Siglo: Passion.
1) How did you come up with Twilight's Calling?
Each of the Jam writers was assigned to write in a certain genre for each of our stories. Since I was editor-in-chief of the magazine at that time, I offered to take whichever genre none of the other writers wanted, which is how I ended up having to write a romance!
No one really wanted to write a love story, but I was convinced that it was something our girl readers would look for, and that it could be done interestingly. I wanted it to be about ordinary teenagers, meaning no powers, no guardian angels, no super-geniuses, going through the extraordinary process of learning about love and life. At the same time, I wanted to have some kind of unusual twist that would make it different from your usual teenage soap opera.
I've always been a fan of Jen van Meter's Hopeless Savages, which is a U.S. comics series about the children of a pair of famous punk rock stars. I had always wished that Hopeless Savages could focus a little more on the Dusted Bunnies, which is the band of one of the children, then I realized that Jam was the perfect opportunity for me to do something like that myself! And focusing on the members of a struggling high school rock band gave me just the right extraordinary-but-not-extreme twist I was looking for.
And it was really much better than my other idea, which was making them members of a badminton team. Ugh.
2) Which of your characters do you most relate to and why?
It's probably Twilight, who is the lead singer of the eponymous Twilight's Calling. She's snarky, outspoken, and not always entirely in sync with traditional Filipino thinking and culture, like me. We're also both very self-assured, why else would I make the lead character of my title so much like myself? Unlike me, though, Twilight is a real go-getter, though I could teach her a thing or two about diplomacy and consideration!
3) What would be your personal 'band story'?
I actually sang for a band in high school, but only for a month or so. We never even had an actual performance, but it was fun getting together for rehearsals all the time. When I broke up with the lead guitarist (and you'll notice that Twilight
has a crush on lead guitarist Sean), the band kind of broke up too, sadly. I was heavily into the Pinoy underground music scene back then.
4) How did the idea come up about 'comics for girls, BY girls'?
The Yonzons (who own Mango Comics) are huge believers in comics and in Filipino talent. So at the time when everyone was jumping or trying to jump on the W.I.T.C.H. bandwagon, they also saw that there was enormous potential and obvious demand for a comics magazine made for girls. But they didn't want to just cash in on it, they wanted to make something that young Filipinas could really identify with, enjoy, and maybe even learn a thing or two from. So they figured the best way to ensure that Jam appeals to girls is to have Jam done by girls. And it looks like they were right.
5) Besides writing for Mango Jam, what are you busy with lately?
I have a husband and a three-year-old daughter, believe me, that keeps me busy enough! Other than that, though, I have my usual corporate copywriting projects, that's my bread and butter. I have a short short story coming out soon in the Sawi
anthology; I've submitted my script (which will be drawn by my good friend and constant collaborator Marco Dimaano) for "Project: Hero" (That's a working title), a comics anthology edited by Andrew Drilon and Elbert Or; and pretty soon I'll be lettering my story for this year's Siglo: Passion, which I had the privilege of working on with the amazing Lan Medina, Reno Maniquis, and Ed Tadeo. Oh, and I'm trying to submit a new short story for my husband Dean's speculative fiction
anthology! I sound terribly busy, don't I? But of course I make time to keep up my blog (http://nikkialfar.blogspot.com/) and do similarly important things like play mindless video games, haha!