C3CON 2003!!!
I went home friday night and rested enough to print at least 50 copies of my indies on saturday.
saturday I went out and got my indies printed at a discounted price. Then I went home and printed the colored covers with my newly refilled printer. My bro kept hovering about me watching what's going on, so I let him help me by folding the indies after I stapler them. He also wrapped them i plastic and added the freebies after I showed him sample. The advantage with autistic people is that they are very meticulous with their standards so the quality of the work is unquestionable. and they don't stop until the job is done.
later it turned out that I miscalculated and was 7 covers short. My bro is very annoyed. he kept "Seven!" because there are seven coverless copies laid out on the floor. he won't stop saying "Seven!" as I hurriedly dressed to buy more papers and print more covers. by that time though all the xerox paces are closed so I just printed the colroed covers and decided to bring them with me to manila where i can print them when I need to again.
I then worked on my costume. My bro was very interested again. One thing about him is that he's an otaku longer than I am, but i guess it's not exactly something to encourage him to go hardcore on heheheh! So when i slowly found myself turning into a comix/anime fanatic (mostly because of friends) I let him in on the fun as much a I can. He held up wilson Tortosa's drawing of Jun from g-force as I checked on the finishing details of my costume. He kept saying Gatchaman book". I told him Wilson will give me the #1 BOTP for dressing up. And that alone is prize enough for me :)
Sunday I woke up late because I stayed up last night preparing and packing for another week in makati. When I did I asked my fam how to pull off the hair. I said i'll go to the parlor if there's no other way. Mamy tried to use this hair iron. it curled the ends of my hair a little, but we were worried it would be gone in the 2 hours that i'll travel from laguna to manila. i also decided to wear my costume shirt because changing shirts would mess up my hair.
Tita Apple came up and found out in the middle of our dilemma and eventually we figured out to just twist curls in pins and spray net the whole thing to keep the hair during the trip. it's hilarious how everyone looked at my hair as I commuted for 3 hours from home to boarding and finally to megamall :D it was pretty hectic because I had to get my indies sold as well as register at the cosplay booth.
Pretty Camy saw me and immediatel brought me to Wilson Tortosa. It's so amusing seeing how Wilson got so excited when he saw me. He's so happy and hyper! He quickly pulled me to sit beside him and introduced me as his 'mascot'. It's so hilarious! And I got my free autographed BOTP #1! I already feel like a winner, contest or no :) We later went onstage to show our costumes. Being my first time to cosplay I was so nervous! But the cheers from Blitzworx ang Glashouse Graphics made me feel good enough to WORK my costume on the ramp! Whooooooooo!
I basically have no idea if jun of G-force has any trademark poses or quotes so I just treated it like another fashion walk and showed them the transmute bracelet (my thanks to Cathy the Mimiru cosplayer for the gorgeous bracelet!) as I posed. Then just said "Atashi wa Jun, Gatchaman" (I am Jun, of Gatchaman). It was fun :D When I got offstage some people approached me asking if I was model 'because of the walk' I did. I laughingly answered "Used to, but I'm an artist now". And it's nice when peoplewalk up to me and recognize either my character ("hey! You're Jun/Princess from Gatchaman/BOTP/G-Force!") or as creator of Jac Strips. Some vene recognize me thru Friendster!
After exchanging text messages Cathy and I found each other at the "Biologically Female Dressing Room". That's when she gave me the shiny metal bracelet for my transmute band. and I did the body art using my make up crayons for her costume. I love her hair! She had it cut just for the cosplay! And everyone was so impressed with her mimiru costume! And the sword is very well-made as well as the rest of her costume. Her resourcefulness never fails to wow me when it comes to cosplay. She's also very effcient in planning how to pull it off, where to shop for materials, etc. She's a good cosplayer, and most of all, she's having fun doing it :)
Naturally people wanted to take her picture for her costume. And she gamely posed perfectly in character. I get pleasantly surprised when the people with their cameras would ask me to join her in the picture, because people often think i wasn't wearing a costume! hahahahah!
Deck arrived near closing time when ranulf and I was on line for this comodo something game. I met with Deck because they won't let him in for free (even if there's only half an hour left before the event is over!). He took a picture of me too as I posed beside Wilson's drawing of the character i was cosplaying. We had pizza and bottomless blue pepsi because I haven't eaten anything all day except a chicken sandwich (my breakfast), and a slice of pizza swiped from Glasshouse Graphics (wheheheheh!).
We looked for Cathy after picking up my stuff from the indie and Glasshouse booths because Deck offered to drive us home. it's nice of him to even agree to drive Cathy to her home a bit farther South before driving me to the dorm. We talked about the c3con on the drive home, and cosplaying. And Cathy's amused that I enjoyed cosplaying and my considering to do more cosplays. The pink/white g-force girl costume is my one option. the Ate Whompers from Cat's Trail is another. But it all depends on how easy getting the materials would be. There was even the Persephone from Matrix Reloaded.
This morning I got 4 requests on my friendster! Most of them from people I met at the C3con, and another from yasmine, the newest Komikera! Wheeeeeeeee!
Now excuse me, I have to pick up something from ortigas and get back to work. Ack! I haven't even had anythingt eat yet today!
Okay, just had my lunch at KFC :D ....
Az, thanks for being there with me! C3Con gets much more fun when you're there!
Syeri! I owe you 4 strips :D Thanks for the valuable help at the indie booth! Idol!
Joana! Thanks for the free Cresci Prophecies #1! And the gorgeous art! Lovely colors!
Ranulf! Hope we get to hang out more sometime :)
Gabe! Great meeting you finally! Wheeee! PIX FROM
GABE
!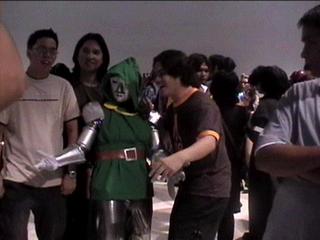 Robert as the Matrix Revolutions APU is the best cosplay! hands down!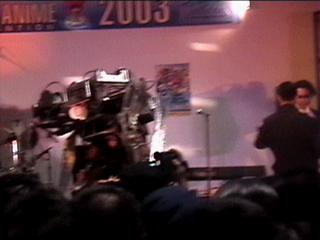 The Juan! I wanna cd of that! kahit pirated lang! heheheh!
Congrats to 7Thursday for winning best band!
Waaaaaaa! talo indie ko sa contest! Ahehehehe k lang, may bumibili pa rin!
Wheeeeee! Thanks to all those who bought my indie! Email me!
I'm finishing my Slave Leia for coloring. Wish I color as good as Joanah and Ryan Orosco (bows down).
Hail Azrael's Merryland! Woohoo! heheheheheh!
Thanks to Blitzworx and Glasshouse graphics waheheheheh!
I want C3con pics! Upload them already so I can link ur sites here!
Mabuhay ang Artists Den! Wheeeeeeeee!