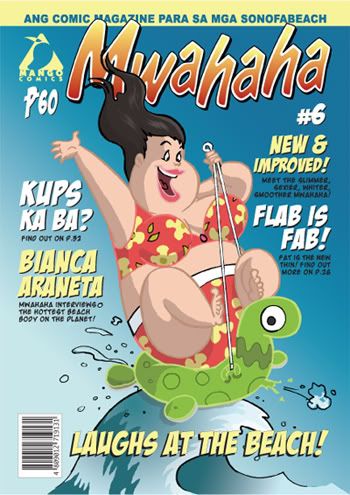 "Mwahaha, the bimonthly comic magazine from Mango Comics, is available now!
Mwahaha Laughs at the Beach features work from the country's top cartoonists and illustrators. With new episodes of Gerry Alanguilan's Johnny Balbona, Rene Aranda's Mokong's World and Manix Abrera's Kirot ng Kapalaran. New art from the Singapore Strait Times' Dengcoy Miel, more jokes from Manny Francisco, and new antics from Ga & Go by Freely Abrigo.
Mwahaha 6 comes in a new size and better paper! With more full color pages! Features include a Reggie Miller tribute, a David Hasselhoff special, movie reviews, and an interview with beach hottie Bianca Araneta!
Better paper! Better jokes! Same crazy Mwahaha!
Mwahaha 6 is available at your favorite book, magazine, or comic stores. Ask for it! P60 pa rin!"