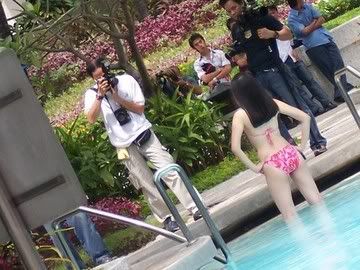 "Okay, who f***ing pushed me?!?"
If you can't see the image, click this
link
.
That was me this morning. And no, nobody pushed me. The photographers just wanted to make me pose in the water during the photoshoot for the Bikini Bodies 2005. I was one of the candidates. Even to this moment I still can't believe I got in.
I mean, you grow up being the ugliest little girl in a family with gorgeous parents and siblings... and now THIS?!
I was just walking in a treadmill in Slimmer's World (okay, okay, I was kinda suckered into signing up because of their half-price promo) when a female trainer came up to me and told me to go to Dusit Hotel for the first screening because they need a representative.
"Sali ka na, katuwaan lang naman yun e. It's just for fun!"
So gullible me thought 'What the heck,' and went. Cathy, who signed up in Slimmer's World for the same reason, lent me her swimsuit and got me an entry form.
A few days later I was told that I'm in. Now they're telling me to go to this photoshoot. And that for the next few weeks we'll be rehearsing for a production number. They took my measurements so they could make costumes.
Futek, KATUWAAN LANG ITO?!?
Hay. But of course, I'm going through with this. As far as I can go. However silly I sometimes feel because I never really viewed myself as anything visually pleasing. Mostly because I'm always up for a new experience, and it's gonna be one heckuva story to tell Mikko's kids someday.
I scoured the malls yesterday until I chose a printed red and pink string bikini, and got some red strapped wedge sandals to match with it. The next morning I woke up real early to go to the gym for my Day 3 of the week(they put me in a 3-day program to prepare for the contest) where this trainer made me 3 sets of everything, however much I begged that I can't do it because the weights are too heavy, or my limbs are too weak. Because he won't quit pestering me until I finish all the 3 sets, I did it. After thatb I rushed through th showers and hurried to find a salon to get makeup done.
No salons are open until 10am. Photoshoot
starts
10am. FUUUUUTEK!
I ran on to Shangri-La. I was on my way to the hotel when my eyes glanced ove rthe mall's directory. I saw Watercolors. I found it and had makeup done there. One hour later I look less like a troglodyte and poorer by P650. Zeny, the nice makeup artist directed me to a shortcut to the Hotel by the elevator. I'm one hour late.
I was thankful to find that they took pics
individually
. So it's okay to be late. Yay! After that I went on to work.